Bio
Dr. June Andrews works on AI Instruments at Stitch Fix. Previously, she led building a Monitoring & Diagnostics platform for GE's airplane engines in use today. The platform has since been extended to turbines in renewable energy and power plants. At Pinterest, June created the Signals Program, a feature store, supporting over 50 ML engineers. At LinkedIn, she supported growth and engagement during a 50% gain in membership. June holds degrees in applied mathematics, computer science, and electrical engineering from UC Berkeley and Cornell. Her hobbies include teaching at Berkeley and serving on advisory boards.
Upcoming Abstract Summary
The Uncanny Valley of ML
Every so often, the conundrum of the Uncanny Valley re-emerges as advanced technologies evolve from clearly experimental products to refined accepted technologies. We have seen its effects in robotics, computer graphics, and page load times. The debate of how to handle the new technology detracts from its benefits. When machine learning is added to human decision systems a similar effect can be measured in increased response time and decreased accuracy. These systems include radiology, judicial assignments, bus schedules, housing prices, power grids and a growing variety of applications. Unfortunately, the Uncanny Valley of ML can be hard to detect in these systems and can lead to degraded system performance when ML is introduced, at great expense. Here, we'll introduce key design principles for introducing ML into human decision systems to navigate around the Uncanny Valley and avoid its pitfalls.
Past Sessions By This Speaker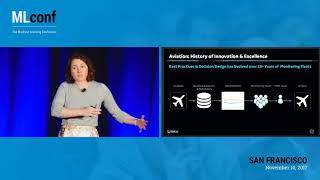 June Andrews at MLconf 2017 San Francisco