Bio
Living in the intersection of search, recommender-systems, and applied machine learning, with an eye for horizontal scalability and distributed systems. Currently Lead Data Engineer in the Office of the CTO at Lucidworks, doing research and development of data-driven applications on Lucene/Solr and Spark.
Previously built out LinkedIn's search engine, and was a founding member of the Recommender Systems team there and after that, at Twitter, built their user/account search system and lead that team before creating the Personalization and Interest Modeling team, focused on text classification and graph-based authority and influence propagation.
Apache Mahout committer, PMC Member (and former PMC Chair).
In a past life, studied algebraic topology and particle cosmology.
Sessions By This Speaker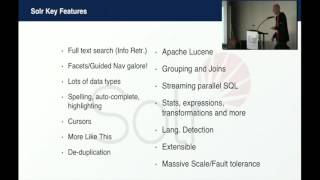 Jake Mannix at MLconf 2016 San Francisco