Bio
Dr. Steve Liu is chief scientist at Tinder. In his role, he leads research innovation and applies novel technologies to new product developments.
He is currently a professor and William Dawson Scholar at McGill University School of Computer Science. He has also served as a visiting research scientist at HP Labs. Dr. Liu has published more than 280 research papers in peer-reviewed international journals and conference proceedings. He has also authored and co-authored several books. Over the course of his career, his research has focused on big data, machine learning/AI, computing systems and networking, Internet of Things, and more. His research has been referenced in articles publishing across The New York Times, IDG/Computer World, The Register, Business Insider, Huffington Post, CBC, NewScientist, MIT Technology Review, McGill Daily and others. He is a recipient of the Outstanding Young Canadian Computer Science Researcher Prizes from the Canadian Association of Computer Science and is a recipient of the Tomlinson Scientist Award from McGill University.
He is serving or has served on the editorial boards of ACM Transactions on Cyber-Physical Systems (TCPS), IEEE/ACM Transactions on Networking (ToN), IEEE Transactions on Parallel and Distributed Systems (TPDS), IEEE Transactions on Vehicular Technology (TVT), and IEEE Communications Surveys and Tutorials (COMST). He has also served on the organizing committees of more than 38 major international conferences and workshops.
Dr. Liu received his Ph.D. in Computer Science with multiple honors from the University of Illinois at Urbana-Champaign. He received his Master's degree in Automation and BSc degree in Mathematics from Tsinghua University.
Sessions By This Speaker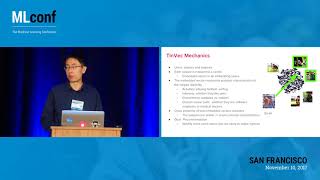 Dr. Steve Liu at MLconf 2017 San Francisco