Bio
Daria Sorokina is a machine learning scientist at Amazon Search who enjoys working with large complex data sets. She joined A9.com (Amazon subsidiary in Palo Alto, California) in 2014 and currently she is a member of relevance features team, where she is involved in projects for browse ranking and search for digital and fashion products.
Daria graduated with a PhD from Cornell in 2008 followed by a postdoc at Auton Lab, CMU. She got introduced to search as a relevance scientist at Yandex Labs, and continued in this field as a data scientist at LinkedIn, where she developed spam detection and static rank algorithms for LinkedIn people search.
Daria is the author of Additive Groves, the best off-the-shelf machine learning algorithm for a variety of tasks. It held winning positions in multiple data mining competitions, most notably Yahoo Learning To Rank '2010.
Sessions By This Speaker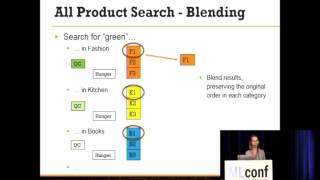 Daria Sorokina at MLconf 2016 San Francisco